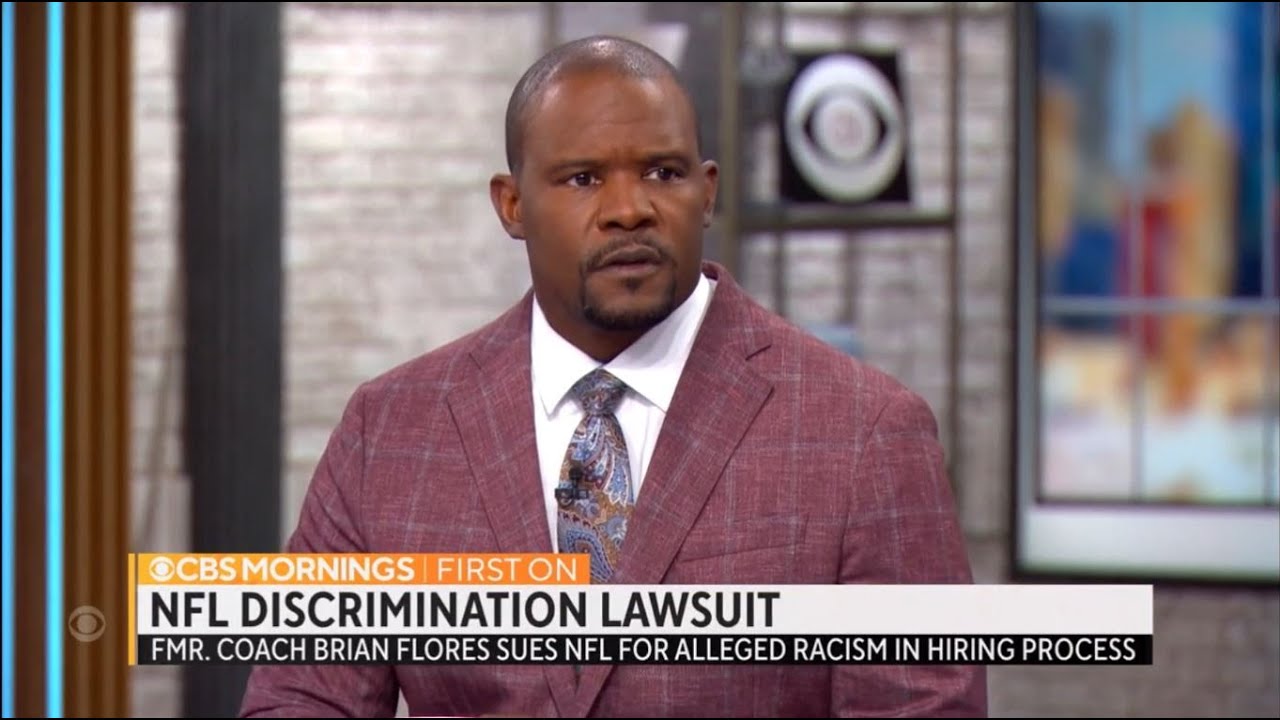 On the first day of Black History Month, Wigdor LLP and Elefterakis, Elefterakis & Panek filed a landmark class action lawsuit on behalf of former Miami Dolphins Head Coach Brian Flores and a group of similarly situated Black individuals alleging that the National Football League ("NFL") has a painful history of racism that continues through the present day — particularly when it comes to the hiring and retention of Black Head Coaches.
At the center of Coach Flores' lawsuit are allegations that the NFL and its teams often conduct "sham" interviews with Black head coaching candidates to satisfy the Rooney Rule, a 2003 league policy that requires teams to interview diverse candidates for certain senior-level coaching and front office roles. As Coach Flores discovered, many times these are interviews in name only. Too often, the job has already been given or promised to a white candidate before the Black candidate walks in the door, as alleged in the Complaint.
On April 7, 2022, Wigdor LLP filed an amended complaint, adding two new plaintiffs – Coaches Steve Wilks and Ray Horton.
As alleged in the Amended Complaint, in 2018 Mr. Wilks was discriminated against by the Arizona Cardinals in a manner consistent with the experiences of many Black coaches. According to the Complaint, Mr. Wilks was hired as a "bridge coach" and was not given any meaningful chance to succeed. He was unfairly and discriminatorily fired after just one season, as alleged. His white GM, who made poor personnel decisions and was convicted for a DUI during the offseason, was given a contract extension. Mr. Wilks was replaced by a white coach, Kliff Kingsbury, who had no prior NFL coaching experience and was coming off of multiple losing seasons as a Head Coach at Texas Tech. Mr. Kingsbury, armed with quarterback Kyler Murray, has been given a much longer leash than Mr. Wilks and, to his credit, has succeeded. That said, Mr. Wilks, given the same opportunity afforded to Mr. Kingsbury, surely would have succeeded as well.
Mr. Flores and Mr. Wilks are joined by Mr. Horton. Mr. Horton was a long time NFL coach and Defensive Coordinator when he was interviewed for the Tennessee Titans Head Coach position in January 2016. According to the Complaint, this turned out to be a completely sham interview done only to comply with the Rooney Rule and to demonstrate an appearance of equal opportunity and a false willingness to consider a minority candidate for the position. The Titans' all-white ownership and management ultimately hired Mike Mularkey, a white candidate, for the Head Coach position. Years later, in 2020, Mr. Mularkey admitted in a podcast interview that the Titans, "[T]old me I was going to be the head coach in 2016, before they went through the Rooney rule. And so I sat there knowing I was the head coach in 2016, as they went through this fake hiring process knowing, knowing a lot of the coaches that they were interviewing, knowing how much they prepared to go through those interviews, knowing that everything they could do and they had no chance to get that job."
Black candidates make up 11% of Head Coach positions—in a league where 70% of players are Black.
It's been 20 years since the Rooney Rule was passed. In the past 20 years, there have been approximately 129 Head Coaching vacancies. Out of those 129 vacancies, only 15 positions were filled by Black candidates.
Statement from Douglas H. Wigdor and John Elefterakis:
"It is an honor to represent three admired and successful coaches who, by becoming named plaintiffs in this race class action, have demonstrated great courage to stand up against the NFL. While the NFL may hire outside consultants, make minor rule changes, and pander to various interest groups, real and enduring change can only be accomplished through the appointment of a court ordered monitor as the NFL has demonstrated time and time again that it is incapable of policing itself."
Statement from Brian Flores:
"I continue to be humbled by the outpouring of support in connection with my claims against the NFL and applaud Steve Wilks and Ray Horton for standing up against systemic race discrimination. Their claims are the unfortunate reality of the problems facing Black coaches in the NFL which our collective hope in this case is to end once and for all."
Statement from Steve Wilks:
"When Coach Flores filed this action, I knew I owed it to myself, and to all Black NFL coaches and aspiring coaches, to stand with him. This lawsuit has shed further important light on a problem that we all know exists, but that too few are willing to confront. Black coaches and candidates should have exactly the same ability to become employed, and remain employed, as white coaches and candidates. That is not currently the case, and I look forward to working with Coach Flores and Coach Horton to ensure that the aspiration of racial equality in the NFL becomes a reality."
Statement from Ray Horton:
"I am proud to stand with Coach Flores and Coach Wilks in combatting the systemic discrimination which has plagued the NFL for far too long. When I learned from Coach Mularkey's statements that my head coach interview with the Titans was a sham, I was devastated and humiliated. By joining this case, I am hoping to turn that experience into a positive and make lasting change and create true equal opportunity in the future."
ABC News
"Former Miami Dolphins coach Brian Flores sues NFL for alleged racial discrimination"
February 1, 2022
Read PDF
Read Online
Associated Press
"Fired Miami Dolphins coach sues NFL, alleging racist hiring"
February 1, 2022
Read PDF
Read Online
Associated Press
"Flores says her won't drop lawsuit even if hired as coach"
February 2, 2022
Read Online
The Athletic
"NFL sued for racial discrimination by former Dolphins coach Brian Flores"
February 2, 2022
Read PDF
Read Online

Axios
"NFL sued for racial discrimination by former Dolphins coach Brian Flores"
February 1, 2022
Read PDF
Read Online
Baltimore Sun
"Two coaches join Brian Flores in Lawsuit against the NFL alleging racial discrimination"
April 7, 2022
Read Online
Bleacher Report
"Brian Flores Lawsuit Alleges NFL Racism, Reveals Details of Head Coach Searches"
February 1, 2022
Read PDF
Read Online
Bloomberg
"Ex-Miami Coach Brian Flores Sues NFL, Claims Racial Bias in NY Giants Coach Hire"
February 1, 2022
Read Online
Bloomberg
"Lawyer Suing the NFL for Racial Bias Is No Stranger to Controversy"
February 2, 2022
Read Online
CBS Boston
"Accidental Bill Belichick Text Messages At Center Of Brian Flores Racial Discrimination Lawsuit Against NFL, Giants"
February 1, 2022
Read PDF
Read Online
CBS Miami
"Former Miami Dolphins Head Coach Brian Flores Alleges Racism In Class Action Lawsuit Against NFL"
February 1, 2022
Read Online
CBS News
"Former Dolphins coach Brian Flores talks about lawsuit, alleged racist hiring practices in the NFL: "Humiliation, disbelief, anger"
February 2, 2022
Read PDF
Read Online

CNN
"Accidental Belichick text at center of coach's NFL discrimination lawsuit"
February 2, 2022
Read PDF
Read Online
CNN
"Former Miami Dolphins coach Brian Flores describes being offered money to lose games"
February 2, 2022
Read PDF
Read Online
CNN
"The NFL made a rule to boost diversity in upper ranks. It's not what 'my father intended it to be'"
February 3, 2022
Read PDF
Read Online
CNN
"Brian Flores, who is accusing the NFL of racial discrimination, is not one to back down"
February 4, 2022
Read PDF
Read Online
Daily Beast
"Fired Dolphins Coach Brian Flores Exposes Damning Bill Belichick Texts in NFL Discrimination Lawsuit"
February 1, 2022
Read PDF
Read Online
Daily Mail
"Steve Wilks, Ray Horton join Brian Flores's racial discrimination lawsuit against the NFL"
April 7, 2022
Read Online
Daily Voice
"Ex-Dolphins Coach Brian Flores Sues Giants, NFL For Racial Discrimination, Cites Belichick Text"
February 1, 2022
Read PDF
Read Online
Deadline
"NFL Plans To Fight Racial Discrimination Suit From Fired Miami Dolphins Coach Brian Flores, Calling It "Without Merit" And Asserting, "Diversity Is Core To Everything We Do"
February 1, 2022
Read PDF
Read Online
ESPN
"Brian Flores sues NFL, three teams as former Miami Dolphins coach alleges racism in hiring practices"
February 1, 2022
Read PDF
Read Online
ESPN
"Brian Flores' NFL lawsuit and a 'fake interview process': Everything we know about Steve Wilks, Ray Horton additions and what's next"
April 7, 2022
Read Online
Forbes
"Two Black Coaches Join Brian Flores' Lawsuit Against NFL Alleging Racial Discrimination"
April 7, 2022
Read Online
Fox News
"Brian Flores opens up about racial discrimination lawsuit: 'We gotta change hearts and minds'"
February 1, 2022
Read PDF
Read Online
Insider
"Former Miami Dolphins coach Brian Flores accuses the NFL, multiple teams of racial discrimination in blockbuster lawsuit"
February 1, 2022
Read PDF
Read Online
Law360
"NFL Race Discrimination Case Adds 2 Black Coaches"
April 7, 2022
Read Online
Law and Crime
"Former Miami Dolphins coach Brian Flores accuses the NFL, multiple teams of racial discrimination in blockbuster lawsuit"
February 1, 2022
Read PDF
Read Online
MSNBC
"NFL legal troubles mount over gender and race discrimination claims"
April 8, 2022
Read Online
New York Daily News
"Steve Wilks, Ray Horton join Brian Flores suit as Mike Mularkey admitted Titans interview was a sham"
April 7, 2022
Read Online
New York Post
"Brian Flores: I was 'humiliated' walking into 'sham' Giants interview"
February 2, 2022
Read Online
New York Post
February 2, 2022
"Brooklyn native Brian Flores won't back down from NFL in discrimination fight"
Read Online
Sports Illustrated
"Brian Flores Claims Texans 'Retaliated' Against Him, Team Added to Lawsuit"
April 7, 2022
Read Online
Time
"Brian Flores' Lawsuit Shows the Limits of Diversity Initiatives"
February 7, 2022
Read Online
UPI
"Ex-coaches Wilks, Horton join Brian Flores' racial bias lawsuit vs. NFL"
April 7, 2022
Read Online

USA Today
"It was a range of emotions:' Ex-Dolphins coach Brian Flores discusses class action lawsuit on 'CBS Mornings"
February 2, 2022
Read Online

Wall Street Journal
"Two Coaches Join Brian Flores's Racial Discrimination Suit Against the NFL"
April 7, 2022
Read Online